Here in Florida especially…Our children and schools are definitely under attack…All these concerns are manufactured by divisive politics….
In my many years as a teacher of young children…we never discussed their sexual identity…They were learning how to socialize with others…And to become who they were …And accept our differences…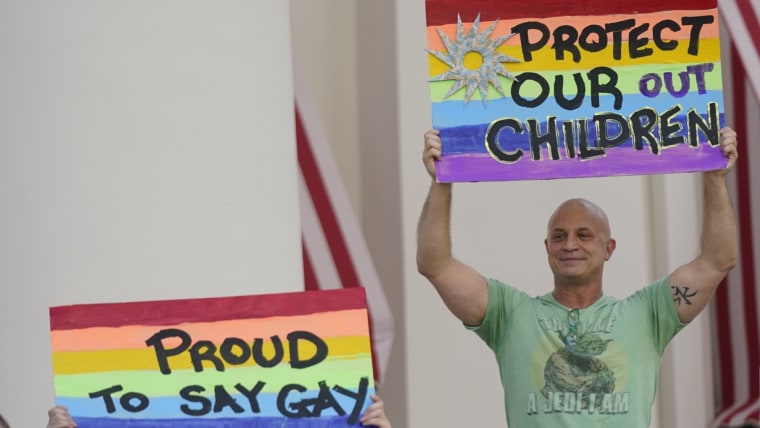 "What Florida's 'Don't Say Gay' bill really says | The Week" https://theweek.com/education/1011116/florida-dont-say-gay-bill-briefing?amp
MARCH 13, 2022
Why Florida's 'Don't Say Gay' bill has caused a nationwide uproar
Ron DeSantis.

GRAYSON QUAY
MARCH 13, 2022
A controversial piece of legislation commonly known as the "Don't Say Gay" bill passed the Florida Senate on Tuesday after being approved by the House last month. Gov. Ron DeSantis (R) has signaled that he plans to sign the bill. Why is the bill getting so much national attention?
What's in the bill?

The legislation, more officially titled the "Parental Rights in Education" bill, seeks to restrict the discussion of sexual orientation and gender identity with public school children, especially from kindergarten to the third grade.

The text of the bill, which was filed on Jan. 11 by state Rep. Joe Harding (R), stipulates that "[c]lassroom instruction by school personnel or third parties on sexual orientation or gender identity may not occur in kindergarten through grade 3 or in a manner that is not age appropriate or developmentally appropriate."

"If that language seems vague, it is," writes CNN. "But vague legislation can have massive consequences."

The bill also empowers parents to sue schools and teachers that violate this ban, enhancing the ability of Florida's parents to object to their children's curricula.

Notably, the "Don't Say Gay" nickname was created and spread by activist opponents to the bill. The bill does not seek to prohibit the use of the word "gay" in schools, supporters note.
LGBT advocacy group Equality Florida threatened to "lead legal action against the State of Florida" if "the vague language of this bill" is "interpreted in a way that causes harm to a single child, teacher, or family." Kara Gross of the ACLU's Florida branch told Time the bill could infringe on teachers' First Amendment rights.

In his State of the Union speech, President Biden told "younger transgender Americans" he would "always have your back … so you can be yourself and reach your God-given potential."
DeSantis is expected to sign the bill into law. He has repeatedly expressed support for the legislation, though he hasn't explicitly said he will sign it if it reaches his desk, ABC News reports. If he does, however, the law would go into effect July 1.
Teachers speak out as Florida's 'Don't Say Gay' bill heads to DeSantis' desk…
https://www.goodmorningamerica.com/living/story/teachers-speak-floridas-dont-gay-bill-heads-desantis-83475914